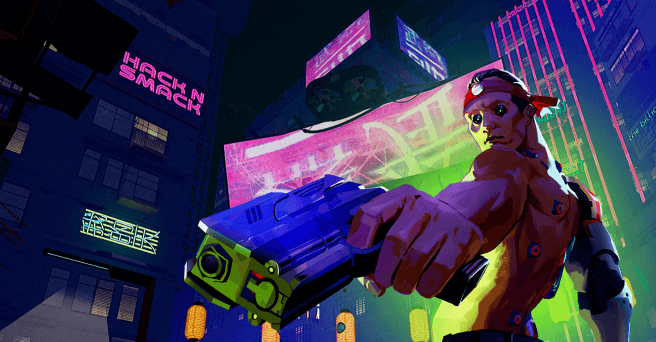 Facts sheet
Release dates:
EA Release 18 Oct. 22
Description
Deadlink is a cyberpunk FPS with roguelite elements. You're the first operative to be recruited to the experimental Deadlink project. Pilot an autonomous combat shell, fighting your way through cramped slums, twisted labs, grimy warehouses, and sleek office buildings on a mission to thwart the schemes of the most powerful corporations in the world. Wield a deadly arsenal, upgrade your skills and tech, devastate destructible environments, and slash corporate profit margins — all at the same time.
Features
Be part of an elite organization
You are the Corporate Security Agency\'s greatest weapon, and it's your job to make sure the corporations and their shady deals are anything but secure. With the team at HQ backing you up, you're tossed headfirst into the fray, where a military operation with plausible deniability can fix things for a fraction of the cost of a hopeless court case.
Every randomized run will be different, but one thing never changes: you will be outnumbered. Get ready to think on your feet as you dash, jump, and use the environment to your advantage. You can't still, not even for a second.
Equip your shell with powerful weapon loadouts. Try out various combinations as you blaze a path of destruction. Want to snipe your foes from a distance, debilitate them with status effects, or just go in guns blazing? Whatever your playstyle, you can find the right kit for the job.
Train your brain, augment your brawn
Your enemies have no shortage of bullets and bodies to throw at you. But you're no slouch either. Sure, you might lose a combat shell here and there, but your next one will be even tougher. Start each new run with amped-up skills and deadlier firepower!
Developers
Gruby Entertainment is a small, independent, fully remote Polish game development studio founded in 2020.
We put a ton of effort into making games we all want to play. We love everything about game development and see it as an opportunity to create memorable experiences.
Gruby Entertainment's goal is to manufacture nutritious, high-calorie gameplay for hardcore gamers, giving them hours of action-packed excitement interspersed with meaningful decisions. We want to makes games for an audience that's hungry for fresh, innovative approaches to existing genres, with a focus on high-quality gameplay based on an extensive "iterative polish" process.
Videos
Screenshots
Art
Logo
Banner
Download all materials
Contacts and links